To all our friends, our residents & relatives…
From everyone at Majesticare, we would like to take this moment to say a huge thank you from the bottom of our heart for your incredible support and your kindness.
Our Majesticare teams have been absolutely amazing and we are truly humbled and exceptionally proud of the superhuman efforts that everyone is making and continues to do so to protect and care for your loved ones and all of our Majesticare family.
As we are certain you will appreciate, these are ever-changing circumstances and we want to you to know that we are working in close co-operation with Public Health England, the NHS and other advisors to ensure the measures we have in place reflect or exceed the most current guidance and advice.
Should you have any questions regarding the Majesticare response and actions in regard to COVID-19 please do not hesitate to reach out and contact us using our dedicated email:  covid19@majesticare.co.uk
Stay safe, stay inside and keep smiling.
Take care,
Angela, Roger and Steve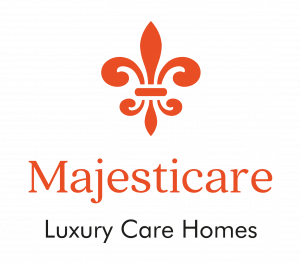 ---
New admissions
We are committed to supporting the needs and wellbeing of older people and continue to welcome new residents into our homes. We want to reassure you that we have additional assessment and admission protocols for all new residents.
Visiting a Majesticare Home
Our homes continue to be closed to all visitors, although we recognise that should there be an exceptional circumstance such as end of life, our Home Managers will fully support close friends and family to arrange a visit. Our home teams will sensitively advise and ensure that all appropriate measures are followed so we can protect and safeguard the health and wellbeing of everyone.
We also want to reassure you that all essential medical visits are still happening, with appropriate precautions.
Activities and everyday wellbeing for all
We remain incredibly dedicated to provide unique care and stimulating activities for mind, body and soul for all our residents.
Our fabulous teams continue to stimulate, engage and bring so much happiness, light and sparkle to the lives of your loved ones, our residents. From filling the rooms with a song, a dance to deliver an ice cream, drawing, gardening and baking… there is no end to our creativity and love.
Whilst respecting social distancing, residents are still able to spend time within the communal areas of our homes where possible. With the recent sunshine, we have been enjoying time in the garden and letting in that beautiful Spring fresh air through open windows!
Staying connected with your loved ones
We understand that in the absence of visits to our homes, you will be concerned about your loved ones wellbeing. Our teams are becoming adept at using our iPads and we are dedicated to providing you with the opportunity to video call your loved ones as often as possible, please be patient as we are doing our best.
We regularly post across our social media, and for those who are interested to follow the smiles, we've have included links to all our Homes Facebook & Instagram pages below.
Through text messaging and emails, we are sending regular updates to let you know about the magic moments that are being enjoyed by our residents and our teams within our homes.
Please don't hesitate to let us know if you would like to receive these updates. All we need you to do is email covid19@majesticare.co.uk with the name of your loved one, the name of their Majesticare care home and if you want to receive a text, please include your mobile number.
Keeping people safe
As well as our residents, we continue to look after and monitor the health and wellbeing of our Majesticare teams; those who are self-isolating will remain at home until they are able to return to work.
To maintain our normal staffing levels throughout our homes we have initiated a new Healthcare Heroes and Social Care Superstars recruitment campaign. This has been hugely successful and has attracted some wonderful new people who are passionate to care and to make a difference to the lives of our residents and your loved ones.
We have increased the hours across our Housekeeping teams who very efficiently keep our Homes spotlessly clean.
We have also added a further level of protection for all team members who are now changing into their uniforms when they arrive at our homes and changing back into their own clothes prior to leaving at the end of their shift.
There has been much in the media about personal protective equipment (PPE), we are fortunate that we are and will remain well stocked with all items needed to continue to keep our residents and teams safe throughout the Coronavirus crisis.
---
Stay connected & follow the happiness on our Social Media.